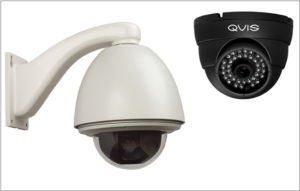 CCTV systems have become a crucial add-on for any company that wants to ensure that their business premises remain safe and secure. While we all want to think that a 'break in' will never happen to us, we can never know if and when an attack on your business can happen. Should someone try to force their way into your premises to help themselves to whatever is inside, it is nice to know that a reliable CCTV system will be there to catch them in the act and assist the local authorities with their enquiries to make sure that the people responsible are held to account.
CCTV systems have greatly evolved in recent years. They are no longer the cumbersome system they once were and now have the ability to record in HD, at night and in all areas. In addition to this, the cost of CCTV systems have significantly reduced, meaning that they are no longer an expensive item.
At Lingo Solutions Ltd, we specialise in all types of CCTV system from the small entry level systems to the larger systems for bigger premises. We are able to put together the right CCTV system for you to suit your budget and requirements. On top of this, we are able to install, supply and support your CCTV system. If you already have a CCTV system that needs some help, we can assist you with this as well.
Feel free to call us on 02393 190 690 to discuss your CCTV  requirements today.
Our local clients are based in Portsmouth, Chichester, Hampshire, West Sussex & Surrey, but we also have some clients in other areas of the UK, Europe & worldwide.